Biking Dutchman Mountain
Biking Tours
Biking Dutchman is the premier biking agency in Ecuador and pioneered mountain biking in the country in 1991. We invite you to join us on a tour through the spectacular countryside that makes Ecuador a biker's paradise. Biking Dutchman has been providing memorable vacations for cyclists of all abilities for over three decades.
With all due precautions, we operate Premium tours.  We guarantee any departure, with two or more passengers. To reserve your spot, please fill out the reservation form or send us an email to: biking.dutchman@gmail.com
After all those years, we are as enthusiastic as always! Discover Ecuador with the experts!
Adventures Designed for Family Fun
Mountain biking is a great source of fun and exercise. We design these trips for families and for people who want to explore the beautiful Andes in an eco-friendly and active way.  The difficulty of every tour is increased by the speed each rider decides to ride with. We want you to enjoy and be safe, but we also understand if you want to have some fun. Support vehicles are always behind the riders, so if at some point you don't feel comfortable, just hop on the truck and wait until you want to start biking again.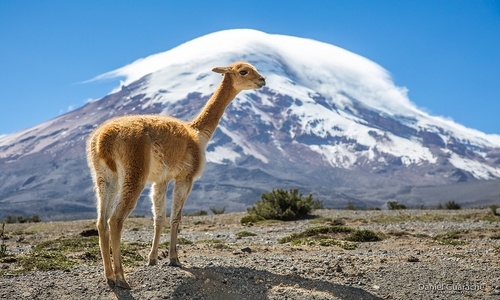 Recommended 3-Day Trip!
Discover the Ecuadorean Andes in a breath-taking trip to Cotopaxi, Quilotoa, and Chimborazo, in a three-day mountain biking tour. Descend Cotopaxi on your first day, travel to the most beautiful lake in Ecuador on your second, and go to the closest point on earth to the sun on the third. On top of the natural beauty, you will also have the chance to mingle and share time with Andean Indigenous communities. Llamas, Vicunas, and possibly Condors will be our high altitude companions throughout this adventure. This tour has it all.
We are the Pioneers
The company is based in Quito, Ecuador just a short drive from the Avenue of the Volcanoes, in the heart of the Andes. We were the first to start with the concept of mountain biking tourism in Ecuador and we have not steered away from course. Every year we innovate in order to improve. After 28 years we think we have what it takes to offer you unparalleled fun and beauty.  Don't think this is a trip for bike-lovers only, our main motivation is for you to explore the country from a eco-friendly and sustainable perspective.
Sustainable tourism
When you buy one of our tours, you support our ongoing efforts to cooperate with the communities with whom we work. Some examples of our support: Staying overnight with community-owned initiatives like Sinchi Warmi in Misahuallí, a women-led project in the Amazon, Alpaca in Quilotoa, Posada de Urbina in Chimborazo. Additionally, we buy our Guayusa for your tea and the chocolate for our brownies from a Community in Puyo called Tsatsayaku.
Additionally, we are firm in our commitment to continue with our personal and company-level duties to minimize the negative impact of tourism on the environment. We compost, recycle, reduce our use of packaging. We have also started beekeeping in our backyard to protect bees and produce our own honey.
We are excited about the constant learning in our journey to being a sustainable company. As we evolve and as we learn from you and the new approaches to sustainable tourism, we pledge to continue working on minimizing our impact.
The soul behind the company
Jan and Ana created Biking Dutchman in 1991, on the eve of their first daughter's birth. The idea for Biking Dutchman was born from Jan's passion for biking as a way to discover the world and Ana's love for her country's beautiful landscapes. Jan, as a passionate Dutch biker, has biked his way through five continents and has garnered the knowledge and the love for mountain biking as a sustainable form of tourism. During his travels, he landed in Ecuador where he first fell in love with the country and then with Ana, who showed him the secrets of Ecuador and who learned to see her country through different eyes.
Together, they built a family company that reflects their values and passions. As they have always opened their home to all cultures, orientations, and beliefs, they have modeled Biking Dutchman with this spirit. They infuse their love for each other and their company through the small details such as the home made lunches, their devotion to make travelers fall in love with Ecuador, and their commitment to leaving a better world behind for their children through sustainable tourism.
They created our company together in 1991, and have infused Biking Dutchman with their personalities, good humor, and love for Ecuador.
Safety measures we take
Biking Dutchman takes your safety very seriously. We cannot prevent accidents from happening but here is a list of precautions we take on every trip:
Professional mountain bike guides who will teach riding techniques if needed.
Our guides are all qualified in first aid, and we carry all the equipment on board.
Professional car driver who is also a certified bicycle mechanic with tools and essential repair parts.
Extra bicycle so the fun doesn't stop on the rare occasion your bike fails.
Helmets, rain gear, gloves, knee, and elbow pads are provided.
4×4 Support vehicle that follows us from a distance in every single route. If the vehicle cannot enter the route, radio contact is constantly maintained, and a visual contact of our progress.